Ornamental Corners Set 2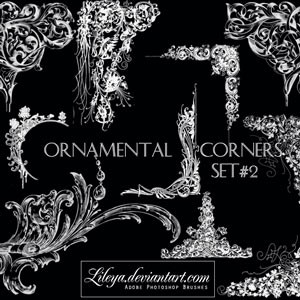 Items in set: 10
License: Free for personal use only
Number of Downloads:
140877
Description:
Ornament from Latin ornare means "to supply, to decorate". As an ornament, I mean a motif or a set of decorative motifs used in architecture or art. Usually, an ornament is not an element necessary for the existence of a given object or structure but is only used as an element of division of a specific composition, decoration.
The ornament is not subject to the rules of realism. It can combine various elements in a fanciful way. Depending on the genesis, the following ornaments are distinguished: geometric, organic. Organic motifs can be floral, animal, anthropomorphic, calligraphic, or abstract.
Thanks to the ornaments, you can define the region and time from which the work comes.
In the ornamental pack, you will find 10 free corner brushes. Be creative and use them, for example, to create unusual invitations, greeting cards.

Premium images: